Epic Illustrated #2 Richard
Corben cover
Epic Illustrated #2 cgc 9.8 Richard Corben
cover
Epic Illustrated was a comics anthology in
magazine format published in the United
States by Marvel Comics. The series lasted
for 34 issues, from Spring 1980 to February
1986.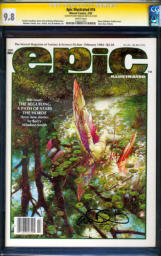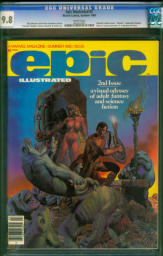 Epic Illustrated #16 Barry Windsor-
Smith cover
Epic Illustrated #2 cgc SS 9.8 signed by Barry
Windsor-Smith
Epic Illustrated was a comics anthology in
magazine format published in the United States
by Marvel Comics. The series lasted for 34
issues, from Spring 1980 to February 1986.
Deadliest Heroes of Kung Fu #1
The Deadliest Heroes of Kung Fu #1 CGC 9.8
This unique book ran without a single advertisement in its pages. Bruce Lee,
David Carradine and instructional features by Frank McLaughlin. Bruce Lee
"Enter the Dragon" filmbook, pin-up, and photos. Features a four page article
and photos from the "Kung Fu" television series. Earl Norem cover featuring
David Carradine vs. Bruce Lee.
In the summer of 1975, Curtis (Marvel) published one issue of The Deadliest
Heroes of Kung Fu, a martial arts magazine with no comic book elements.
Instead, The Deadliest Heroes of Kung Fu contained instructional features by
comics illustrator/martial artist Frank
McLaughlin. The magazine also had the
distinction of not having a single advertisement
within its pages. Editor John Warner explained
in the magazine's editorial page that the
extended reprint — a discussion of the film
Enter the Dragon originally published in three
parts in Curtis's Deadly Hands of Kung Fu —
allowed the magazine to go without ads.
Warner's editorial also posited that The
Deadliest Heroes of Kung Fu was a trial balloon
for an all-articles companion to Deadly Hands,
but it is generally believed that a page-count
cutback across Marvel's black-and-white
magazine line came entirely out of the article
section for Hands, leading to an inventory
backlog, which this one-shot cleared.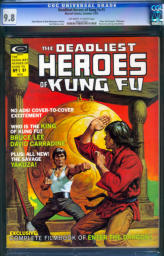 Savage Tales #1 1971
The first Savage Tales ran May 1971. It marked Marvel's second attempt at
entering the comics-magazine field dominated by Warren Publishing (Creepy,
Eerie, Vampirella), this followed the two-issue superhero first attempt; The
Spectacular Spider-Man in 1968.
First issue stories were;
The Frost Giant's Daughter; Robert E.
Howard's sword and sorcery pulp-fiction
character Conan the Barbarian, adapted by
writer Roy Thomas and artist Barry Windsor-
Smith (as Barry Smith);
The Fury of the Femizons; the futuristic,
Amazon-like Femizons, by writer-editor Stan
Lee and artist John Romita;
The Origin of the Man-Thing; the swamp
creature Man-Thing, plotted by Lee and
Thomas, scripted by Gerry Conway and drawn
by Gray Morrow;
Joshua's Burden; the African-American inner-
city defender Joshua, in the feature "Black
Brother" by Dennis O'Neil (under the
pseudonym Sergius O'Shaughnessy) and penciler Gene Colan;
The Night of the Looter; the jungle lord Ka-Zar, by Lee and artist John
Buscema.